Saturday 7 October 2017
in the grounds of St. Andrew's Presbyterian Church,
6 Te Aroha Street, Hamilton
from 10.30 am to 3.30 pm.
There will be for sale
Salami, glass & jewellery, Maori cuisine, Thai food, gifts & art work, wood products, lavender, honey, leather wear, soap, bread puffs, crepes, BBQ food, Korean food & produce, potted plants, Island food & craft, Devonshire teas, hot dogs and others to come.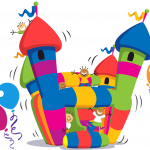 A bouncy castle will be in attendance
Stall operators are welcome and should contact
Boyd Weir at <evelyn.boyd@xtra.co.nz> or Jim Findlay at <findlay@wave.co.nz>
for details.