The above image was kindly taken and donated by Neil Piccione.
Located in Hamilton, in the heartland of New Zealand, we offer you a warm welcome.
Our mission:  To worship and work with God in the world.
Our vision:  A bridge to the city … where love and friendship meet.
Take a look around our website.  Email us, or come along to our services.  We are a people to belong to, and your contribution will be welcomed.
Closure
The Link is now operating subject to the relevant restrictions under COVID-19 Alert Level 2.
The Church Office remains closed for the meantime.  Church services or other meetings also remain in abeyance until further notice.
Church service times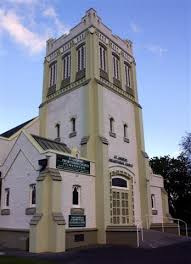 Sunday 9:30 am – English language service
Sunday 11:30 am – Korean language service
Wednesday 7:30 pm – Korean language service
For additional details, see our Church Services page.
To view the latest edition of "The Bridge" newsletter, click Autumn 2020 newsletter
Bulletins will not be posted on this page for the duration of the COVID-19 Alert Level 4 lockdown.  However, an order of service for each Sunday "service"
will be posted on the "A message from the Minister" page.
* * * * * * * * * * * * *
Church Restoration Project 
In August 2017 the church was closed due to it being an earthquake risk.
We are now raising money to refurbish and strengthen the church
to 67% of New Building Standard,
so as it can be opened again for worship.
If you are able to make a donation, see further details HERE.
* * * * * * * * * * * * *

Click the logo and then 'like us' on Facebook.
The website of the Presbyterian Church of Aotearoa New Zealand can be found HERE.
Access to Ministry Settlement Board Documents 2018 available HERE