In an increasingly electronic world, there is still little to rival the satisfaction of settling down with a good book. The church Library is available for all who attend St Andrew's and our collection has become more comprehensive as the years have unfolded. (We have had visitors comment that it is the best church library they have seen, but we don't wish to skite…)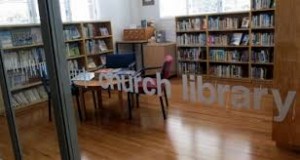 The library committee buys a wide range of titles to meet the needs of as many as possible: adults, youth and children. We have a great range of children's picture books and chapter stories. In the adult section we have fiction, biographies, prayers and meditations, books on Christian living, study group resources, Bible commentaries, books relating faith to topical issues, on church history and world faiths, books on parenting and on youth ministries. There is definitely something for everyone.
Books ranging across the theological spectrum are added to provide different, sometimes challenging viewpoints. We hope they will be of great benefit in helping you to think about issues, in providing inspiration and in helping you to grow in your faith. Come and check us out. Items are issued for one month and may be renewed if no-one else is waiting. A Dewey catalogue enhances access to authors, titles and subjects. Assistance is on hand after the 9:30am Sunday service, during the morning tea gatherings.
Some new acquisitions
Sunday, October 1 
"Let Us Pray" by Janet Nelson. (264 NEL) Prayers of intercession are an important part of every worship service. "Let us Pray" contains a collection of well crafted prayers shaped around the three-year-cycle of readings as set down in the "Revised Common Lectionary.." This volume is expected to be a great help to those rostered to help with intercessions at St Andrew's and will complement other books of prayers already held in the Church Library.
Sunday, October 8 
"Heart Whispers: Benedictine Wisdom for Today" by Elizabeth Canham. (255 CAN) "Heart Whispers" offers accessible insights from Benedictine spirituality to help us explore the need for faithful living in today's stress-filled world.The sixth century monk, Benedict, offers a remedy for the sickness of souls that results from life out of kilter with the natural rhythms of our deepest being.
Sunday, October 15
"The Dark Night of the Shed: Men, the midlife crisis spirituality – and sheds" by Nick Page. (248.4 PAG) In this funny, profound and honest look at the fears, hopes and challenges of midlife, Nick Page draws lessons from the story of Jacob, the wisdom of Carl Jung and the heroism of Percy the Park Keeper. Nick Page shares his own story and the stories of other men he's met along the way. You don't need to be having a mid life crisis, or even contemplating it, to enjoy and benefit from the humour and wisdom in this book.
Sunday, October 22
"Time to Be: Reflections on Facing the Future" by Eileen Campbell. (242 CAM) The quotations in this inspiring collection have been gathered from a wide range of sources from both East and West.  They focus on themes such as vision, faith, courage, gratitude, compassion – and offer insight into how the great spiritual teachers, poets, philosophers and writers, past and present, have been able to live deeply and fully while facing an uncertain future.
Sunday, October 29
"The Faith of John Knox" by James S. McEwen. (285.2 McE) This book is made up of six lectures given by James McEwen, Professor of Church History at the University of Aberdeen. McEwen wrote, "Knox left very little systematic theological writing and I have had to gather his teaching from his pamphlets and letters . . . I have attempted to place Knox's teaching against the general theological thought of his time and to display the agreement and differences."
Sunday, November 5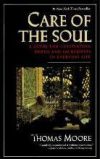 "Care of the Soul: A Guide for Cultivating Depth and Sacredness in Everyday Life" by Thomas Moore. (248.4 MOO) In his introduction Moore writes, "When soul is neglected, it doesn't just go away; it appears symptomatically in obsessions, addictions, violence and loss of meaning. Our temptation is to isolate these symptoms or to try to eradicate them one by one; but the root problem is that we have lost our wisdom about the soul."  A reviewer writes, "This is an enthralling text . . . This book is a peaceful little island of good sense.
Sunday, November 12
"Clouds and Glory: Prayers for the Church Year" (264.1 ADA)and "The Open Gate: Celtic Prayers for Growing Spirituality" (264.1.ADA) both by David Adam. The first of these books will be of help to those contributing prayers in the context of worship. The second offers resources for personal daily prayer as well as prayer for corporate worship.  All of the prayers employ the Celtic emphasis and style for which David Adam is known.
Sunday, November 19 
"The Art of Dying Well" by Ian M Kilgour. (248.8 KIL)  A reviewer has written, " This isn't a book about death as such – it's much more personal – it's about your death, and mine, and how we might prepare for it. There are plenty of writings on death, but little on how we approach our dying . . .  Aucklander Ian Kilgour, has held pastoral positions with New Zealand Methodists, Presbyterians and the Salvation Army, and from his  experience brings together " offerings… intended as helpful pointers."